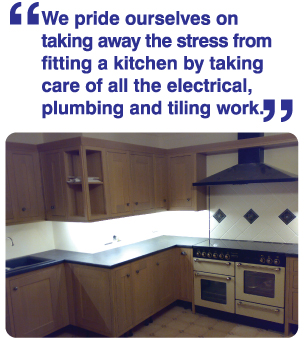 Kitchens
Stangroom Ltd employees have 10 years experience of supplying and fitting kitchens and are happy to fit any type or range of kitchen varying from well known DIY centres to high specification bespoke kitchens.

Stangroom Ltd operates a free quotation service involving a site measure and kitchen design, followed by a posted quote within approximately seven days; on our visit we will explain the fitting process and answer any questions the customer may have.

Stangroom Ltd can offer a wide range of kitchens on a supply and fit basis due to using nationwide suppliers or alternatively we can work on a fit only basis if preferred.

Some of your requirements may include change of lighting, relocation of your sink, washing machine or oven. All of your requests will be considered at the design stage to make every effort to accommodate them. Using our multidiscipline skills we can undertake all of these modifications ourselves. The only exception is gas, Stangroom Ltd utilises Gas Safe registered fitters as required.

Although the most efficient method of installing a new kitchen is to start with an empty space, we recognise that this is not always possible. You may not have space in your lounge or garage to temporarily accommodate your fridge or freezer, so we will work around it. We will leave your kitchen sink in place as long as possible to minimise the amount of time you are without this service.