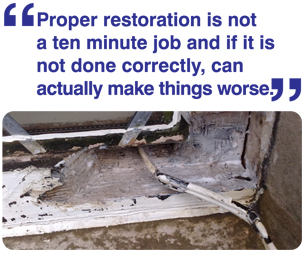 Restoration
Having a qualified joiner at Stangroom Ltd, gives our customersí peace of mind when getting an old sash window repaired or giving a bespoke piece of joinery a new lease of life.

Do you have any rotting sections on your windows that you would prefer to have restored?

Or perhaps you have old mahogany wall panelling that you would like to seamlessly adjust to your new requirements.

Attention to detail is the priority when restoring any item, whether itís a door, window or an item of furniture. Most domestic restorations require use of complicated joints, such as splicing or feathering and a working knowledge of hardwood timbers. Selection of the correct timber and the most appropriate joint and fixings will make the difference between having a repaired item that blends, unobtrusively with the old or a repair that stands out like a sore thumb.

If you have an old property bursting with character, that you wish to have restored, would you trust an expert or risk doing it yourself?